The annual Kanwar fair, which began on July 16 this year, covers over 100- 250 kilometers by kanwarias barefoot. On the way they perform high decibel chants of "bol bam", "bam bam bhole" or "Har Har Mahadev" as invocations to Lord Shiva.
The fair, one of the biggest religious congregations of north India, attracts over 1.25 crores Shiva devotees. The yatra is not just confined to men. A large number of women also take part in the spiritual journey. People opt to go on the Kanwar yatra with some wish or intent.
The tradition is that the water pot must not touch the ground till the time of consecration. NGO's put up makeshift stands where the pots can be kept and put up food and medical stalls to cater to the Kanwarias.
It's hard to miss hordes of saffron-clad Shiva devotees, walking barefoot, this time of the year, often accompanied with blaring music in praise of the Hindu deity.
The kanvadias, as they are called, usually carry two pitchers of holy water from river Ganga (gangajal) on either side of a pole balanced on the shoulder. The pole, heavily decorated, has traditionally been called kanwar. That earns the annual pilgrimage – kanwar yatra – its name. The yatra falls during shravana (or saavan), the fifth month of the Hindu calendar.
The water is gathered from Haridwar, Gaumukh and Gangotri in Uttarakhand and Sultanganj in Bihar. Once the pilgrims return to their hometowns, the gangajal is used to anoint 'Shivalinga' on the amavasya (new moon) day, popularly known as Maha Shivratri.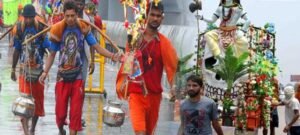 This year, saavan falls between 27 July and 26 August. The yatra is expected to end on 9 August.
How Did the Yatra Start?
Two mythological stories
Two mythological stories explain the origins of the kanwar yatra.
The first is related to the origin of amrit – or the nectar of immortality. As narrated in the Bhagavata Purana, the divine beings emerged from samudra manthan (or the churning of the ocean of milk). But a highly lethal poison, too, emerged from the ocean – the remedy of which was sought by Lord Shiva. If legend is to be believed, Lord Shiva consumed the poison to protect the living world, but his wife Parvati held him by the neck to prevent the effect of the poison from destroying the worlds inside him. The practice of giving water to Shiva began henceforth, in an attempt to reduce the negative effects of the poison.
The other origin story is of Lord Parshuram, the renowned devotee of Shiva, who was believed to be the first to undertake the kanwar yatra. He laid the foundation of the Shiva temple in Uttar Pradesh's Pura, and fetched gangajal every Monday in the month of saavan for Shiva's worship.