Delhi air pollution: No respite for Delhiites, AQI drops to 'severe' category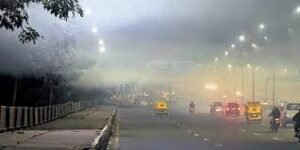 The Air Quality in Delhi, which has been in the 'severe' category for some time, is likely to improve, bringing respite to Delhiites from Sunday evening, a weather scientist said. "The air quality in the national capital is in the severe category with an air quality index of around 400, but from today evening onwards, the air quality of the national capital is likely to improve," India Meteorological Department (IMD) scientist Vijay Soni told ANI.
Air quality in Delhi continue to remain in 'very poor' category; AQI at 328
According to the SAFAR, Delhi's air quality remained in the 'very poor' category for the sixth day straight.
Earlier on Saturday, it recorded an AQI of 323 while on Friday, the AQI was recorded at 335.
In the Delhi University area, the quality of the air was recorded as 'very poor' at 340. The air quality recorded in Pusa was in 'poor' category with an AQI of 300.
1. Delhi PM (PARTICULATE MATTER)levels during Diwali night for 2020, 2021, and 2022
As observed in the graph, the PM levels were the worst in 2021 (1AM, 1016.163μg/m3), followed by 2020 Diwali, and the least emissions were observed in the year 2022. The study point started at midday on Diwali and went on till the next day till 12PM. There is a substantial decrease in PM emissions this year.
2Delhi PM (PA.RTICULATE MATTER)levels on 24th October 2020, 2021, and 2022 Delhi P

The data monitored and displayed here is of the same day, i.e. 24th October. The 24 hour data represents the PM levels on 24th October for the three different years.
3. Zone-wise PM (PARTICULATE MATTER)concentration of Delhi on 24th October 2022
Four key areas were observed and compared, East Delhi, North Delhi, West Delhi, South Delhi, and Centre Delhi for 24th October. Highest PM concentration measured was in Central Delhi, peak time being 11PM (454.05μg/m3). Followed by West Delhi, where peak time was around 10PM (337.783μg/m3) and 12AM (379.883μg/m3). Next comes in South Delhi, observing the peak PM levels around 11PM (344.067μg/m3). East and North Delhi were at the lowest, having peak time 11PM (308.227μg/m3) and 9PM (305.933μg/m3) respectively.
This data represents the data of PM levels monitored during Diwali midnight of 8 metropolitan cities of India, for three consecutive years (2020, 2021, and 2022). The year 2021 is observed to have higher PM concentration among almost all the cities, with Delhi being on the top. The PM levels have improved this year for New Delhi, Ahmedabad, Mumbai, Kolkata, Hyderabad, and Chennai. Whereas, PM levels for Pune and Bangalore were lesser as compared to the previous year, i.e. 2021, but the levels are more as compared to 2020.