The National Logistics Policy is timely given the importance of strong export and logistics efficiency, seamless connection, and superior infrastructure in achieving these lofty objectives.
Introduction
On Saturday, September 17, Prime Minister Narendra Modi unveiled the National Logistics Policy, which aims to facilitate the transportation of commodities and strengthen the commerce sector in the Indian economy. The PM made reference to the reintroduction of cheetahs in India when he announced the launch of the initiative, saying that luggage should move quickly like a cheetah while noting that logistical costs currently represent 13 to 14% of India's GDP, nearly twice as much as they do in developed nations.
What is logistics?
Planning, coordinating, storing, and transferring resources—people, inventories, equipment, raw materials, etc.—from one place to another, from production points to consumption, distribution, or other production locations, are all included in logistics. The complete process of managing the procurement, storage, and delivery of resources to their intended place is referred to as logistics. Finding prospective distributors and suppliers and assessing their feasibility and accessibility are required.
What is national logistics policy 2022?
The policy puts a lot of emphasis on crucial topics including process re-engineering, digitization, and multi-modal transportation. It is a key decision since excessive logistical costs affect how competitive domestic products are on the global market. A national logistics policy was deemed necessary because India has higher logistics costs than other industrialized nations.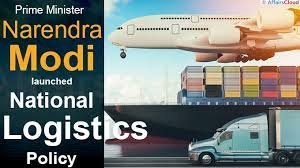 What was the need for logistics policy?
Transportation services for moving goods, storage facilities that are especially important for trade in perishable goods like food, fruits, and vegetables, as well as the efficient operation of government services that assist commerce like licensing and customs are all included in logistics. In October 2021, when the PM Gati Shakti-National Master Plan for multi-modal connectivity was introduced, Prime Minister Modi stated that the logistical costs in India accounted for almost 13% of GDP. In industrialized nations, this condition does not exist. India's exports are significantly less competitive due to high logistics costs.
Gujarat, Punjab, and Haryana were rated as the top three states for logistics ease in a Ministry of Commerce and Industry assessment last year titled "Logistics Ease Across Different States." The factors taken into consideration were the standard of the road and rail networks, the cost of shipping goods by road, the standard of the warehousing facilities, etc. The survey recommended that governments concentrate on things like building infrastructure for sector-specific skilling and streamlining procedures for clearance and approval connected to logistics.
Features of national logistics policy?
The Unified Logistics Interface Platform (ULIP), Ease of Logistics (ELOG), System Improvement Group, and Integration of Digital System (IDS) are the four components of the new logistics policy (SIG). The IDS integrates 30 distinct systems from seven agencies, including information from the departments of road transportation, railroads, customs, aviation, and commerce.
The Prime Minister said that a ULIP, or Unified Logistics Interface Platform, would "bring all the digital services relating to the transportation sector into a single interface." Similar to this, a new digital platform called Ease of Logistics Services (E-Logs) has been launched to let business associations communicate with the government to resolve problems.
The e-handbook for the policy also provides information on the standardization of the warehouse industry. Integral digital logistics systems, standardization of physical assets, benchmarking of service standards, capacity building of human resources, creation of logistics parks, etc. are all included in CLAP. For the expansion of the sector, the government will also provide managerial training in logistics and supply chain. Multi-modal logistics parks (MMLPs) can be established in key markets to enhance first- and last-mile connectivity.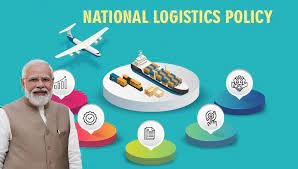 What strategies is the government using to improve logistics?
The FASTag for electronic toll tax collection and faceless assessment for customs are two earlier programmes and schemes announced by the prime minister that were intended to enhance logistics-related factors. The Gati Shakti master plan is the largest of these plans in terms of scope, and according to the PM, "a tremendous amount of material linked to various infrastructure projects of state governments has been prepared." The PM Gatishakti site is now receiving data in roughly 1500 levels from the federal and state governments.
In his Independence Day speech from the previous year, the prime minister said: "In the coming days, we will launch PM Gati Shakti Plan, a 100 lakh crore national infrastructure master plan which would establish a foundation for holistic infrastructure and give an integrated pathway to our economy."
For ministries to track the development of multiple infrastructure projects, a single portal was established. In a later statement, the PM stated that the Centre aimed to nearly double the current natural gas pipeline network of 19,000 km by building over 200 new airports, helipads, and water aerodromes where planes can land over the course of the next 4 to 5 years.
What are experts in the industry saying?
According to industry watchers, NLP will introduce a completely new revolutionary approach to the nation's logistics environment, increasing supply chain efficiency. Arindam Guha, Partner, Government & Public Services Leader, Deloitte India, anticipates that the new programme will help logistics move away from its current over-reliance on roads (over 60% share compared to 25% globally) and toward railways (30% share compared to around 60% globally) and waterways, which make up only 5% of the modal mix at the moment.
Industry analysts agree that the policies increased emphasis on improving human resources and operating standards is a well-intentioned effort to increase the formalization of the industry. With the implementation of logistics and supply chain courses for students, this policy is also intended to increase employment and address manpower issues in the field.
The sector will be further streamlined and expedited by the integrated digital system, which will also guarantee safer logistics and lower prices nationwide. The NLP will prove to be a catalyst for the industry's development and will aid India in establishing benchmarks for going paperless globally. As costs are reduced and important players such as partners, business councils, and government agencies are connected via technology, it will assist SMEs and MSMEs make a further pivot toward quicker growth. Overall, NLP aims to improve local products' worldwide competitiveness, which will encourage companies to expand their exports from India and add new job opportunities.
Conclusion
The country's logistics sector may move on with a transformative strategy thanks to the major policy vision. The Gati Shakti Program, the Sagarmala and Bharatmala (waterways and highways) initiatives, the Dedicated Freight Corridors, etc. are just a few examples of how the NLP may be ground-breaking. The policy intends to lessen the existing over-dependence on roads with over 60% compared to 25% internationally and bring about a modal shift in logistics. India is only 30% dependent on railways, compared to 60% worldwide. In the modal mix, rivers barely account for 5% of travel.
Notably, the Comprehensive Logistics Action Plan (CLAP), which outlines the NLP's precise objectives, is included in the government's most recent strategy. These consist of: intending to rank among the top 25 nations in the Logistics Performance Index by 2030 and lowering India's logistics costs to be similar to international benchmarks by that time (LPI). India was ranked 44th in the world for logistics costs in the (most recent data available) World Bank Logistics Index of 2018, while countries like China and Vietnam performed better, coming in at 26th and 39th, respectively.
The expansion of the nation's economy is mostly dependent on trade, so promoting effective infrastructure for the transportation of commodities is crucial. The infrastructure and policies in place now cannot support India's exponential growth required over the next few years. The policy of giving strong infrastructure first priority will reduce costs, increase exports, and eventually contribute to the growth of the nation. India is well on its way to becoming the world's next major economy.